We are
Film makers
Story tellers
Explorers
Scientists
Nature lovers
Freeborne Media
Freeborne Media is a UK based production company specialising in natural history storytelling.
We're working exclusively, in creative partnership with Netflix and our production partner Wild Space Productions, on a range of science and natural history series and features.
Freeborne's Creative Director James Honeyborne is a biologist by degree and a storyteller by heart. Previously Executive Producer of BBC landmark 'Blue Planet II', a series that broke all records in UK as the most-watched wildlife documentary series for over 20 years. With 'The Blue Planet Effect' becoming part of the national conversation, the series created undeniable impact in many parts of the world.
Producer and Company Director Renee Godfrey trained as an anthropologist before working on the acclaimed series Tribe and Human Planet. Her recent credits include: Hostile Planet, Enchanted Kingdom 3D, Wild Atlantic and Wild New Zealand.
James and Reneé established Freeborne to produce powerful and impactful nature and science documentaries. After Freeborne Films has developed ideas with Netflix, Wild Space Productions make them a reality.
We're excited to share OUR GREAT NATIONAL PARKS, a five part series narrated by Barack Obama. Take a journey across the globe to explore nature's wonder, beauty and mystery.
We're thrilled to see our first feature film with Netflix and Wild Space Productions released. 
RUN TIME: 78 MINS 
Directed by Renee Godfrey and created in collaboration with Brad Bestelink and Natural History Film Unit Botswana.
Narrated by Regé-Jean Page, Surviving Paradise: A Family Tale explores the Okavango Delta, a vast oasis, isolated from the rest of the world by unforgiving desert.
It's also a refuge, built and maintained daily by its inhabitants; in return, it caters for their every need. Big cats may appear to reign here, but in reality, the fate of every creature, great and small, is intertwined.
This film explores the blueprints for building the perfect world, managing it sustainably, and maintaining it – despite extremes of drought, famine, and flood.
Most crucially, it spotlights those passing the secret formula on to their descendants, who will find it harder than ever before to keep their Eden intact.
Steaming now, only on Netflix.
Surviving Paradise:
a family tale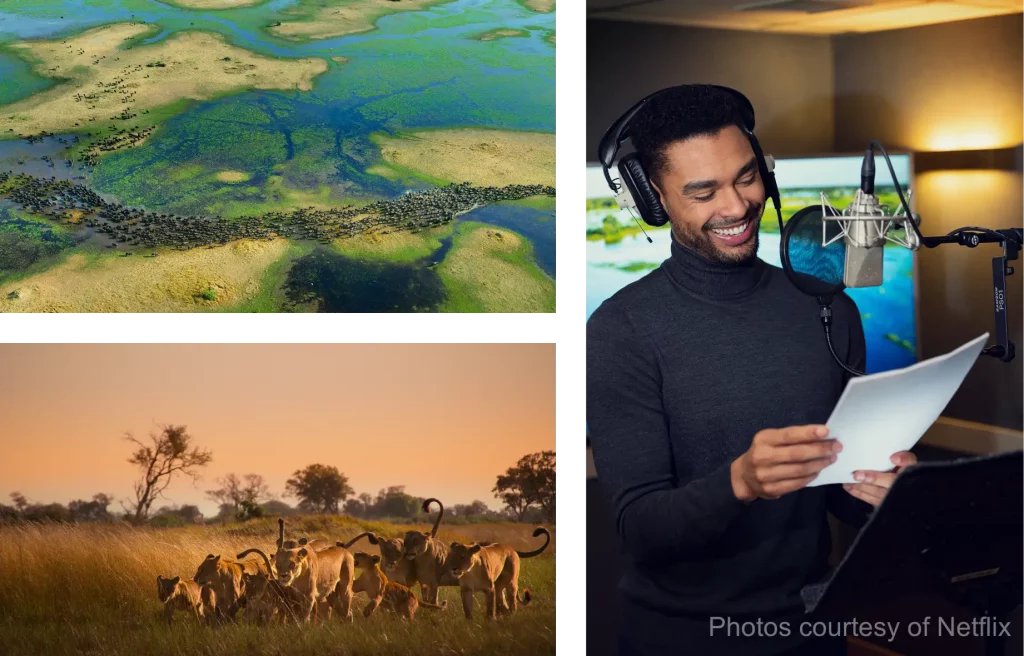 We have a number of series and features in development at Freeborne Films and in production with Netflix at Wild Space Productions, as well as many more to be announced!
Click right to learn more and keep an eye on our social feeds for new announcements.
Surviving Paradise:
a Family Story
"Stories have the power to move people at the deepest levels — they can propel ideas into this world, they can catalyse the conversations we all need to have, they can get things started."
Our award winning team bring an exciting skillset, experienced in engaging social media savvy audiences and always aiming to push the bar in delivering impact via social media storytelling.
Impact Producer Nicola Brown previously worked on the award winning digital series #OurBluePlanet alongside BBC series Blue Planet II. Researcher Annie Moir has been recognised by the United Nations, Jackson Wild and Wildscreen for her film A Voice Above Nature.
In addition to digital production and content creation, our portfolio includes strategy work for brands, nonprofits and governing bodies. Delivering innovative impact via social media storytelling on a global scale.
We're excited for the publication of our upcoming projects.
Our slate includes work with: Netflix, Higher Ground Productions, The European Commission, The United Nations, The Calouste Gulbenkian Foundation and BCW Global.
We're excited for the publication of our upcoming projects. 
In the meantime our Creative Director James talks to Finisterre about the power of storytelling and why he's excited about our upcoming project #SeaOurFuture.
The environment is at the heart of everything we do and working sustainably is important to us.
Our Film and TV work is part of the Netflix 'Net Zero + Nature' commitment.
We continue to review how we're working; to learn and to adapt how we work according to best practises and guidance from Albert.
Where possible we incorporate sustainability messaging on screen.
We're always on the lookout for new talent.
If you're interested working with with Freeborne Films or creating digital and impact content with Freeborne Impact, please send your CV and any showreel material to hello@freebornemedia.com. If you'd prefer to apply in an alternative format – for example a video or audio application – please let us know and we can look to accommodate. We welcome any suggestions to ensure applicants feel they have a fair way of applying for positions they're interested in.
For enquiries for our production partner, Wild Space Productions, please check out their website. 
We have an active diversity initiative – our ambition is to develop local talent and skill-sets, to strengthen local voices and tell new stories.